Need more bandwidth? More power or control over your applications? IntenseHost.com's dedicated server packages deliver powerful machines in a secure environment – at a fraction of what it would cost you to host your applications in house.
Dedicated servers are the ideal solution for companies with high-growth web sites that require high-performance and high-bandwidth web capabilities. Our dedicated servers give you the outsourced convenience of our powerful web hosting plans but on your own dedicated machine! With a dedicated machine, you do not share your server with any other web sites. 100% of the server's resources are devoted to your business.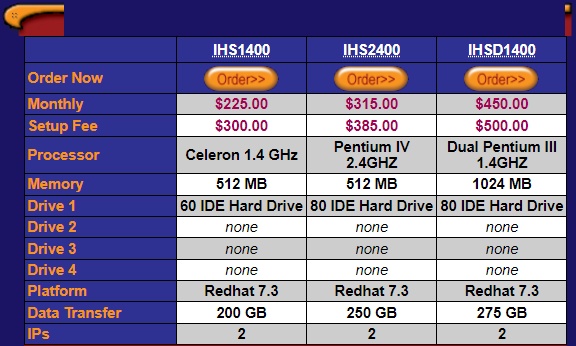 1 Prices and Plans are subject to change without notice.
2 Extra Data Transfer is charged to your account at a rate of $6.00 per GB without prior notification if you use beyond our monthly data transfer allowance.
All IntenseHost.com accounts are bound by IntenseHost.com's policies. Violation of these policies will result in warnings, account suspension, account termination, and/or legal action, depending on the severity of the violation. Accounts are monitored daily for your protection.
Extra Features
Cpanel
$45 per month
Additional 512MB SDRAM
$40 per month
60GB IDE Hard Drive
$35 per month
Extra Bandwidth
$5.00 per gb (sold in blocks of 25GB)
Unsupported Software Installation and Support
$75 per hour in 1/2 hr increments
1 Monitoring of usage is the sole responsibility of the server owner.
S T A N D A R D F E A T U R E S
All dedicated servers come with the follow standard features.
| | |
| --- | --- |
| Redhat 7.2 | Apache Web Server 1.3.22 |
| Exim 3.3x Mail Server | CPPOP 0.96 POP3 Server |
| MySQL 3.23.45 | ProFTPd 1.2.0 FTP Server |
| GCC C Compiler | MS FrontPage 2002 Extensions |
| Perl 5.6.1 | PHP 4.0.6 |
| Emergency Paging System | 99.5% Uptime Guarantee |

IntenseHost offers several e-commerce solutions designed to suit your online business needs. Our array of solutions will help you create powerful, effective and profitable e-commerce web sites whether you are creating an initial online storefront or offering an extensive catalog of products.