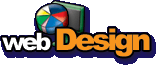 The people who ventured online and wish to embrace the true power of what the internet has to bring are benefiting. Finding a team with a flair for graphic interpretation and the knowledge to get their vision online is not an easy task. We can build you more than just a web presence. Our goal is to help you make your dreams into reality. Whether you are a business or an individual, we are the complete one-stop solution. We offer web designing, hosting, promotions and much more. Unlike our competitors, all of our services and quality of products you receive are top-notch.
Whether you want to develop a new online presence, redesign your current Website or add functionality, our team of web developers and graphic designers has the talent to help your business succeed. Implement various levels of e-commerce including custom designed solutions for your particular needs. Add streaming media, chat, Flash, online forms, back-end database and multi-system software integration. Let us build you a website that will not only help your business grow, but will grow with your business.
A well-designed website adds value to your customer´s experience. It compels them to stay on your website longer and gives them added confidence in your offering. The best part is it doesn´t take a fortune to create a professional web presence. Our prices start at $800.00. That is less than a single print ad. While some projects are more costly, every business can enjoy the benefits of a professionally designed website.